iHopeweb
Electric Bug Zapper Trap Lamp & Mosquitoes Racket Swatter 2 in 1 with Base Support, USB Quick Rechargeble
Regular price
$28.99
$0.00
Unit price
per
Kill bugs instantly - a single swing of our best-selling zappers with a powerful 3, 000-Volt grid eliminates flies, mosquitoes, and other flying insects. Get rid of your old fly swatter and take the modern approach!
Two functions in one - build with a base support, you can use this zapper as racket at daytime & insert trap lamp killer at night. Please recharge this zapper while using the trap lamp mode.
Advanced mosquitoes killer - Electric mosquito killer uses ultraviolet light which lures insects in and then immediately zaps them with an electric shock. 
USB quick charge - designed with USB port, it is so convenient to recharge the zapper, you can connect it to the PC, power bank or another USB socket to recharge it.
Safe and non-toxic - Unlike poisons and chemicals that can potentially harm children, pets, pregnant women, and the elderly, our electric mosquito killer doesn't release any bad smell, dangerous fumes, or lethal substances into your living environment. 
 Product Data Details:
Product voltage: 3000V
Product power:5W
Battery capacity: 1200mAh
Product size: 7.3in*21in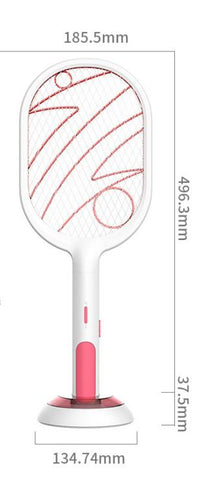 Note tips:
Do not touch the mosquito killer when in use
Do not touch the net immediately after turning off the device. This may cause electrocution.
Please put the device in a dark place for optimal capture while use trap lamp mode.
Keep the mosquito killer dry at all times.
Keep the mosquito killer away from children.
---