iHopeweb
Flying Toys Drones for Kids/Adults,Hand Operated Drones Mini UFO Drone Aircraft with Automatic Return and 360° Rotating Shinning LED Lights
Regular price
$24.99
$0.00
Unit price
per
How To Play UFO Mini Drone:Players only need to turn on the power switch, hold the center shaft, then rotate the aircraft to start.Throw upwards 30° forward, it will rotate along an axis perpendicular to the direction of flight, then fly out like a boomerang and fly back.
Scintillating RGB Lights &Rechargeable:Power it up by Micro USB cable for 15 minutes to get fully charged, and a single charge will give you a full 10 minutes of tricked out flight time. Built-in flashing LED light which will emit bright colorful and shining light when it is on.
Light and portable design: the flying ball is made of high-quality materials, which is soft and crash-worthy. The soft mesh frame protects children from the propeller, at the same time reducing the effects, reducing the risk of damage and extending the service life.
Suitable for indoor and outdoor:You don't need a big area or a lot of space to take off with it. Use it at home, school or the office. It's fun to fly and also a great way to relax and take release some stress. Anyone can easily get started, just use a little practice, you can use it to play a variety of tricks and tricks, can also be used to play throwing and catching games with family and friends
Package Contents: 1x Flying Drone, 1x Instructions,  1x USB Power Cord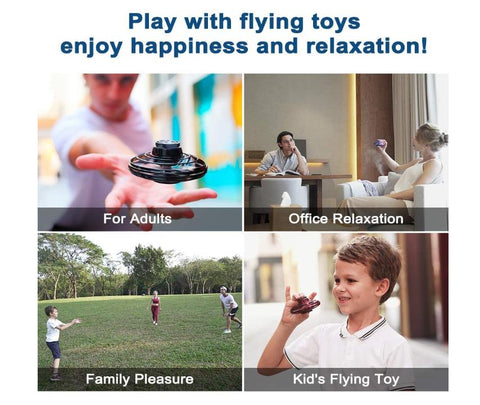 ---